Advancing Telecommunications Technologies without Leaving the Customer Experience Behind
By Christine Chuah and Stephen Chong
An article in Digital News Asia writes that the telco industry is expected to gear up for 5G technology by December 2021.
That is challenging enough from the perspective of scheduling and coordination of human and material resources on the technical side, including, in some cases, factoring in the time for approvals from the relevant authorities.
While the players in the industry are trying to plan and manage this massive coordination effort of resources, what they must also be mindful to do is to amp up their customer engagement efforts because if this transition is not well-handled by their customer-facing staff, potential brand damage and customer churn could be the result, warns GSM Association.
With that in mind, how can the telcos better prepare to meet these challenges?
Apart from technical know-how, what soft skills would their frontliners need in order to better manage customers' expectations, to placate possible irate customers who face interruptions in service depending on location, and other possible points of contention and dissatisfaction?
The ultimate question is, which one to focus on first, technology or people?
Tack TMI Malaysia is currently working closely with one of the big players in the telecommunication industry here in Malaysia, who has footings in other ASEAN countries, in the following key practice areas, to equip their on-ground teams and leaders, to be customer experience 5G ready, by the end of 2021.

SALES
Frontliners who possess sound technical knowledge coupled with the right mindset and attitude to be able to offer the right solution to customers to meet their telecommunication needs will set the organisation apart from its competition.
Rather than selling a product or service based on its features and benefits, frontliners responsible for bringing in sales need to know how to ask the right questions in order to be able to match customers' needs with the right product or service. After all, would you rather be sold something, or would you prefer to buy something that is the solution that you are looking for?
Leading a high-performing sales team can be challenging enough under normal circumstances. Sales leadership during this post-pandemic uncertainty coupled with the pressure of getting 5G ready by the year end, requires communication and leadership skills par excellence and high emotional intelligence to energise and support your team to greater heights.
2 quick tips for better sales experience
UNDERSTAND. Always seek first to understand than to be understood – ask questions that will help you to gain clarity on the customer's pain points or problem that they are trying to solve.
EMPATHISE. Having empathy for your customer enables you to build a connection with them – statistics show that customers tend to buy from people they feel connected to
CUSTOMER EXPERIENCE
When customers call in or walk in to enquire about a new 5G-enabled product or service or to make a complaint about issues that they are having due to service interruptions for example, customer service employees need to be able to respond knowledgeably and be diligent in their follow-up to provide information or service as promised.
However, when faced with an increasing barrage from customers on a daily basis, these same employees will need additional skills and competencies to maintain a calm demeanor and respond in a timely and professional manner to keep the organisation's Net Promoter Score on the high.
As customer service managers leading a team of customer-facing employees whose KPIs are measured by the number of customers they serve within a given period of time, they need to be able to listen empathetically to their staff and at the same time, inspire and boost their morale.
2 quick tips for a better service experience
CONNECT. A simple smile and warm greeting convey so much to the customer because it instantly connects the customer to you. Yet it is a skill taken for granted.
COMMUNICATE. How and what you say has a great impact on how you make the customer feel. For example, "please have a seat" in a loud and commanding voice has a vastly different impact from the same sentence said with a gentle voice and accompanied with a smile.
BEHAVIOURAL TRANSFORMATION
With the pandemic forcing most people to work from home, employees with young families now had to deal with the additional stress of juggling work and at the same time, having to take care of young children and for some, aging parents too.
All this additional stress builds up, leading to anxiety, depression and possible suicide, when they become overwhelmed.
Empathic listening is a highly prized competency that cannot be emphasized enough. Listen to and learn (click on the image below) from Byron Fernandez (Group CIO of TDCX) as he shares how he empathized with the fears and morale of his staff throughout MCO last year which helped them to pull through those trying initial months of lockdown.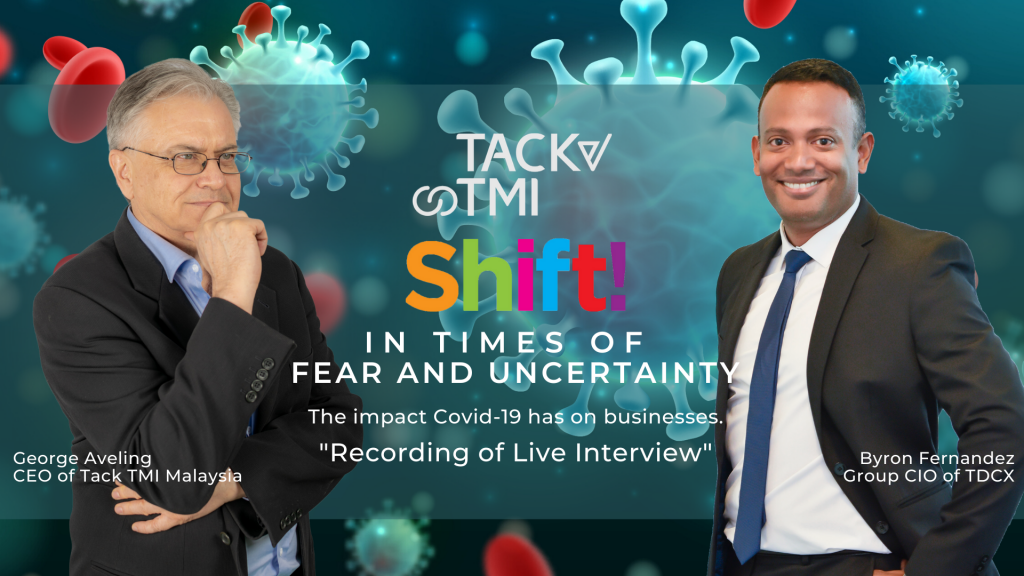 Whether it is your customer, your co-worker, your child or partner, the ability to listen to the words and emotions of a person, conveyed through their body language, is a skill that will positively transform your relationships.
2 quick tips for wellbeing
PAUSE. Next time you feel overwhelmed, take a moment to stop whatever you are doing and just breathe. You are actually coming back to the present moment.
BREATHE DEEPLY. If you continue to just focus on your breathing and take deep breaths for a few minutes, you will eventually feel calmer as your body physically slows down and the oxygen nourishes your brain and body.
LEADERSHIP AND MANAGEMENT
We have developed a leadership toolkit with many essential tools to equip dynamic managers, whether you are a new or seasoned manager, to motivate and lead your people, and to empower them to drive this multi-prong telco effort to be customer experience 5G ready by December 2021.
On leading in a VUCA (volatile, uncertain, complex, ambiguous) world, management guru Peter Drucker says, "We spend a lot of time helping leaders learn what to do, we don't spend enough time helping leaders learn what to stop." As a leader, what you throw in the water has a ripple effect.
So, in this leadership toolkit, one of the many tools, is a framework of questions for leaders, to take time to pause and reflect regularly.
2 quick tips for an effective leader
REFLECT. When you set aside time to reflect on your own actions and decisions, on a daily and weekly basis, and ask yourself the right questions, you will be able to learn from these past successes and mistakes and chart your growth as a leader.
JOURNAL. Making reflection and journaling a habit is a simple yet powerful practice that is a part of all effective leaders' daily routine.
IN SUMMARY
Many resources need to be in place to support telcos to gear up to be 5G ready by the year end. The proposed merger of Celcom and Digi, two major players in the telecom industry, is a testament to how economies of scale can be achieved as a logical move in this direction.
Where human resource is concerned, both hard and soft skills need to be sharpened to allow telco employees to put their best foot forward, to avoid potential brand damage and customer churn, as has been identified by GSMA.
Here are 8 quick tips to help. UNDERSTAND. EMPATHISE. CONNECT. COMMUNICATE. PAUSE. BREATH DEEPLY. REFLECT. JOURNAL.
Where Tack TMI can add value is by drawing on our vast, global network of experience and expertise, to understand each client's unique training needs and marrying that to their brand promise.
The result is a specially designed and uniquely customised training programme that is targeted at delivering a highly effective learning experience over a suitable duration for optimal learning and transfer to workplace application.
No matter what industry you're in, if your organisation is facing challenges in supporting and empowering your employees to embrace the current VUCA business world, here's a downloadable e-workbook with reflection questions that may give you some ideas and insights.

ABOUT THE AUTHORS
Christine believes that personal development is the key to an individual's success in all aspects of their life. She has empowered many people to achieve greater heights in their writing and communication, by her style of coaching and facilitation over the years. She currently plays a key role in customising training programmes for TMI Consultancy's corporate clients while working closely to support both trainers and team to deliver outstanding results to clients.
ABOUT THE AUTHOR
Stephen believes that creativity is limitless, and he has delivered this repeatedly in the work that he produces. With exposure in a diverse range of industries, in TMI Consultancy, he draws on his vast experience to summon the varied and fresh perspectives he brings in to digital marketing and strategic business planning. Stephen is also very adept with a camera and has taught himself graphic designing and video production that compliments the work that he does.