Best Management Training Provider
National Award: A proud moment for our team.
Tack TMI, was awarded Silver in the Best Management Training Provider category at the Human Resources On-Line HR Vendors of the Year Awards.
George Aveling, CEO, said that 2021 was a year of major change for Tack TMI. "We have pivoted to being both a virtual and face-to-face learning and development provider. At this time, we are achieving great client success, in a 100% virtual learning world," he said.
Tack TMI now has a rich offering of virtual programmes.
"I would like to thank our clients. You are the reason we are here. Thank you for continuing to have faith in us during these unique times," he said.
George thanked his international colleagues. "Thank you for the support from our hard working colleagues at Tack TMI HQ, and LearningGym Shanghai Co.,Ltd. Thank you (謝謝) Kevin Ma and Edmund Lai for being my teachers," he said.
"And, most of all, thank you to our wonderful team – Poh Lan, Arvind, Agnes, Billy, Claire, Christine, Stephen, Vicky, Aina, Roshan, Amy, Ansie, Azlin, David, Francis, Franklin, Geeva, Jacki, Jason, Mung San, Marziana, Rajes, Seelan, Sam, Stephen, Suyin and Vasu. This is YOUR award. You have all stepped up. You have stretched yourselves. You have discovered that you are better than you thought you could be," he said.
AN OVERVIEW OF OUR WIDE RANGE OF TRAINING & INTELLECTUAL PROPERTY
Our clients are sophisticated – large local companies and multinationals.
We are more than a training company. We provide solutions that embody our client's brand and values. Using a design thinking process, our mission is to help to

behaviours and advance results. We do this through pre-research, solutions design, co-creation of guidelines to guide management and employee behaviours.
We are driven by a simple purpose – to make a difference to the lives of people and to organisations. And, we believe that we achieve this.
The proof? Our clients stay with us. We let everyone in our organisation – from admin support to learning and development support – know that they make a difference to our customers.
Clients like and value working with us. They appreciate the care that we give them. We have had clients say that we have "spoiled the market" for competitors because of our high levels of customer care, innovative solutions and focus on results.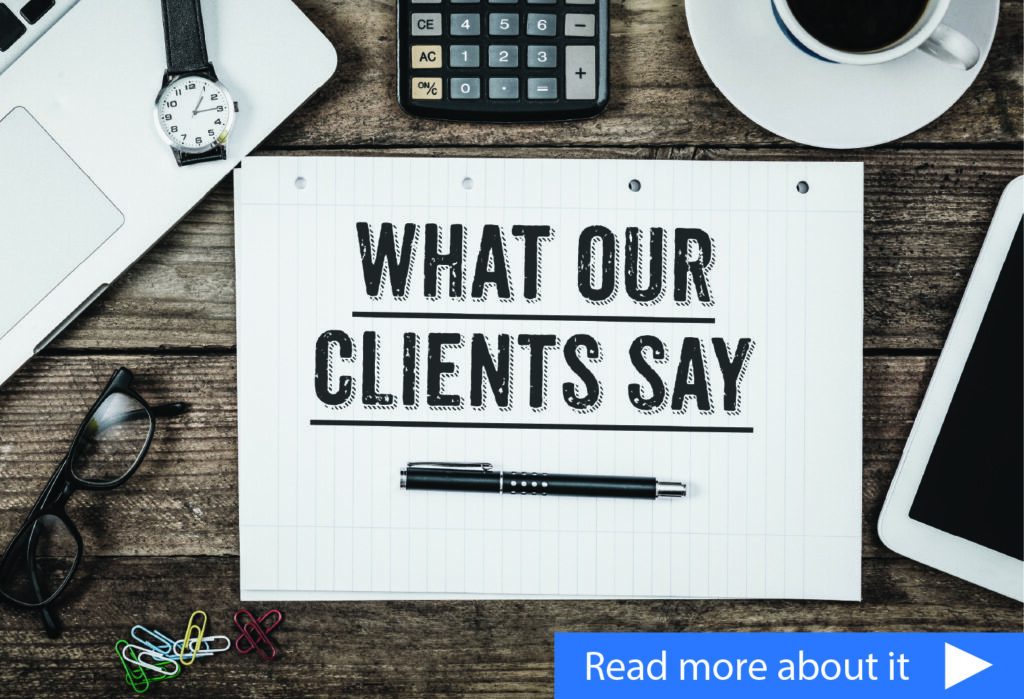 RE-INVENTING IN TIMES OF CHANGE
2020 has been a challenging year. Due to Covid-19, our turnover took a major nose-dive from March to June.
But we pulled together, and by the second week of lockdown, our team had commenced what would become a focused and successful re-invention process to deliver our management training programmes.
We needed to acquire new skills in virtual instructional design and virtual delivery. We deployed a design thinking process to re-engineer and reimagine our very own virtual instructional design process
Our BD team commenced the design thinking process by reaching out to our key clients to understand their pain points and desired outcomes when it comes to implementing a robust virtual classroom programme.
Our L&D team worked intensively with our CEO to design our first virtual learning programme, "Leading Teams in a Virtual World" with the Learning Gym process, which was then pilot tested in virtual delivery to our internal team.

BRINGING CLASSROOM TRAINING TO VIRTUAL TRAINING
Tack TMI had been running several 6-month Management Essential Programmes (MEPs) for our client. Each MEP cohort extends over a period of in the order of 6 months.
These were put on hold when the pandemic hit.
The client then asked us to develop a virtual format for these programmes. We presented the Virtual Classroom Learning Gym process, which their L&D were excited to try out.
We developed and then pilot-tested the process, where we broke up 2 days training modules into 21 day learning sprints. The focus was results-focused through a variety workplace application process.
As a result of the pilot, the client appointed Tack TMI to run two cohorts in Malaysia and 2 overseas cohorts of the programme, which comprised employees in Singapore, Hong Kong and the Philippines.
We are now running learning programmes in the areas of Coaching, Mindfulness and Customer Service for other clients using the Virtual Classroom Learning Gym process.

SUPPORTING THE INDUSTRY THROUGH THOUGHT LEADERSHIP
George Aveling, CEO of Tack TMI, is one of the only writers in Malaysia who writes original articles, with original thinking, published on LinkedIn. Most other contributors curate or share articles.
As an example, to support the leadership community during the pandemic, George and his team conducted 10 interviews with senior leaders in Malaysia to obtain insights on Leadership in Times of Uncertainty.
Tack TMI published 10 podcast interviews with senior respected CEOs, including from The Star, Sunway Education Group, Fave, PLUS and Touch and Go to name a few.
We will continue to contribute new and original thinking to support HR and L&D industry development.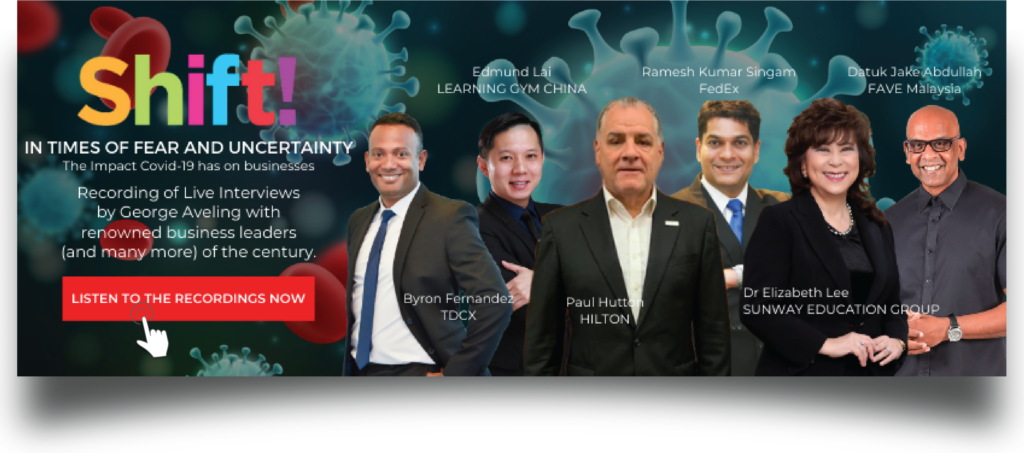 SUCCESSFUL INTERNATIONAL THINKING
We have brought successful international thinking to Malaysia through webinars such as the Webinar with our India colleagues on Transforming the Customer Experience Through Design Thinking.

And there will be 4 international best practices webinars in the next 12 months. Stay tuned to more updates for us!
INNOVATION IN THE VIRTUAL MANAGEMENT TRAINING CLASSROOM EXPERIENCE
Much of current virtual management training happens on Zoom or MS Teams and tends to be routine and somewhat boring.
We have researched virtual delivery methodologies and have developed a virtual classroom processes to increase engagement in training and team meetings.
We have run an initial batch of 3 complimentary sessions – "Goodbye Boring Virtual Training and Meetings" – in September 2020 and the response rate after just two weeks of promotion has been excellent.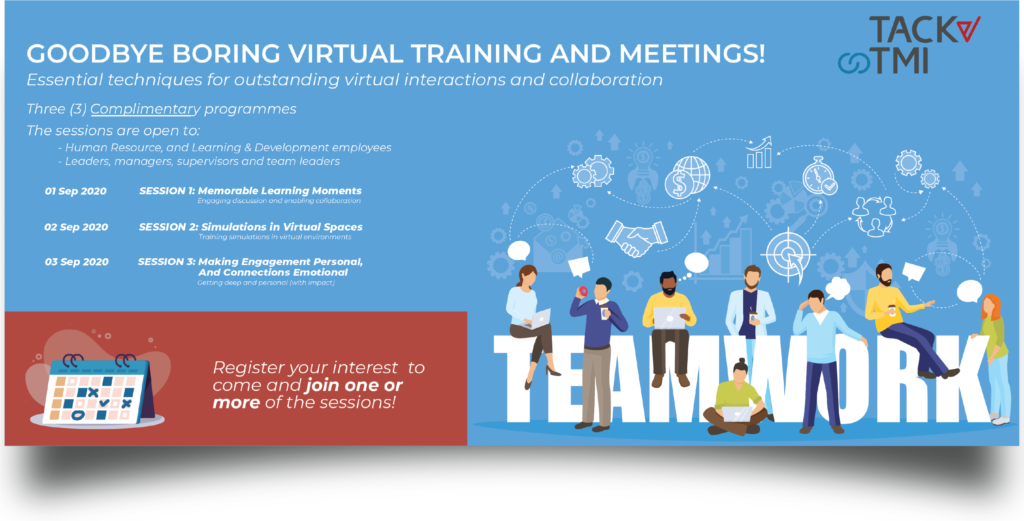 IN SUMMARY
What we have learned in this challenging period is that we need to adapt and be prepared to make mistakes as a way to build a stronger organisation.